Winemaker
Philippe Melka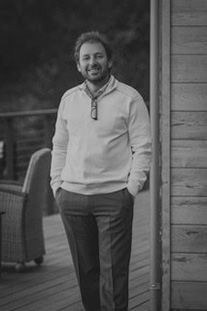 Philippe Melka began working at Roy Estate in April 2005.  He is one of the world's most respected winemakers, who is best known for "finding the voice of the vineyard through its terroir," as Philippe puts it.   He began his career working at wineries in France (Château Haut-Brion and Château Petrus), Italy (Badia a Coltibuono), Australia (Chittering Estate) and California (Dominus and Ridge) before settling in the Napa Valley in the '90s.
"Philippe's attention to detail is amazing," explains Shirley Roy, "whether it's how he ropes off sections of the vineyard to differentiate how and when they're to be harvested or how he adds his touch with his thorough understanding of the vineyard as well as each step in the winemaking process."
Named as one of the top nine wine consultants in the world by Robert Parker, Melka said: "my style is to show the site through the wine, to respect the grape as much as I can.  So every single wine I make will be very different, because every one has a unique site.  We should emphasize the estate much more than the winemaker.  You have to minimize the technique as much as you can."
In the wine industry many credit Philippe Melka with a return to a focus on terroir. Melka's style is a blend of his French influence with techniques such as gentle harvesting, extended skin contact, use of new oak and his 'American' insights about artisanal farming as well as winemaking.
Philippe was born and raised in the Bordeaux region and graduated from the University of Bordeaux with a degree in geology in 1989 and then earned a second degree in enology in 1991, specializing in agronomy and vineyard soils.